News and in-depth analysis of wind power, wind farms and wind industry companies and policy in the United States of America.
Latest USA news
Market status report
UNITED STATES The US is expecting a healthy volume of wind installation in 2015, around 50% up on 2014 as developers scramble to use December's extension of the wind production tax credit (PTC).

Windpower Monthly examines the major issues dominating the US wind market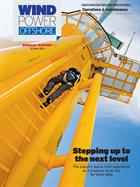 Windpower Offshore looks at operations and maintenance strategies that can help cut the cost of offshore wind energy as the sector continues to grow.

Windpower Monthly looks at the continuing growth of wind power in Latin America as more countries prepare to build substantial capacity.